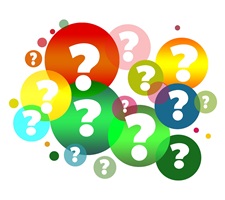 What to Ask When Hiring a Realtor?
Should you hire the Agent your sister /friend /neighbor suggested? Maybe!
Should you be sure they're the best Agent for you? YES!!!
Take the time to interview two or three agents... any Agent will be happy to meet with you to discuss their services and to give you information about pricing etc. regarding your house.

Here are some great questions to ask when interviewing a Real Estate Agent.
1 . How long have you been working in Real Estate Sales?
An established Agent will have lots of experience with different situations

Newer Agents have more time for their clients and will be supported by a more experienced Broker in Charge
2. Tell me about your recent sales. How Many? Where? What type of property?
Ask about their average number of Days on Market

Ask whether they sold at or close to List Price

Ask to see information about how those homes were marketed
3. What kind of marketing & advertising will you do if I list my house with you?
Do you do Open House?

Where do you Advertise?

What will you do to make my Listing stand out?
4.

How much will it cost?
What Commission amount does the seller pay in total?

How much is paid to the Buyer's Agent?

Are their additional fees? ex. for photographs

Is there anything to pay 'up front'?
5.

What is the correct price for my house?
Ask to see local comps and ask why the agent chose those properties as comps.

Ask the Agent to explain online price calculator tools like Zillow, Realtor.com etc. to you.

Make sure the Agent is aware of all the great features your property has but also of any problems as all of these items will affect price.
6. Can you help me prepare the house for listing?
Ask for recommendations on repairs & improvements to make.

Discuss having the property inspected before listing.

Can you advise me on 'staging' my furniture and belongings?
7. Do you also work with Buyers?
If you need to buy a new home it's great to work with just one agent

Agents who also work with buyers have the best idea of what features excite buyers which can help as you prep your house for sale.
8. How often can I expect to hear from you?
Look for an Agent who will commit to regular communication to update you.

Confirm what feedback you can expect to hear from showings

Make sure you have a good rapport with the Agent
9. What makes you the Best Agent to sell my House?
Look for an Agent who doesn't 'badmouth' other Agents

Listen for original Marketing Ideas

Ask about references and reviews
---
When choosing a Real Estate Agent you shouldn't necessarily choose the one with the lowest commission or the one who says they can get the highest price for your house. Check out the full picture before you make your choice. Taking some time to do a little research and ask the right questions so you can find an agent who'll work hard for you get a quick sale at a great price!
In addition to addressing these items and any other questions you may have about your house, pricing and the sales process Agents in North Carolina are required to share & review the NC Real Estate Commission's brochure "Working with Real Estate Agents" with their customers and potential clients.
Our Agents at 'Charlotte and The Lake' would love the opportunity to meet with you and share our answers to these helpful Interview Questions.

Louise Norton
(704) 408 0733
louise@charlotteandthelake.com
PO Box 481487, Charlotte NC 28269
More Helpful Hints