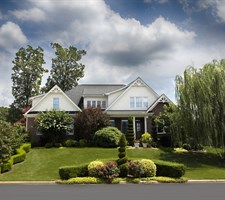 Why is Curb Appeal SO important?
What's the first picture you see of a House for Sale? It's almost always the front of the property.

When buyers tell me what they're looking for - rarely (if ever) do their lists include a description of the outside of the house! I've never been asked to find a house with pretty flowers or a really green lawn but the first impression counts and it's a proven fact that Curb Appeal is what takes a house from " Not Interested ' to a "Must See"!



CURB APPEAL IS REALLY IMPORTANT!
So what do you need to do?
​
Look at your house with a critical eye - as your Realtor to help!
Does the exterior need fresh paint?

Does it need to be power-washed?

Are the gutters full?

Are there oil stains in the driveway?
If the outside is less than clean then buyers will assume that the same is true about the interior.

2. Mailbox & Lighting
​
Making your house stand out on the street makes it memorable.
Try a fresh coat of paint on the mailbox and make sure visitors can easily see your house number.

If you have exterior lighting make sure to replace burned out bulbs and clean the fixture - including the glass.

Limit lawn & garden ornaments so they don't detract from the house.

​
Groomed yards make potential buyers want to see more!
Keep the lawn cut & weeds at bay

​ Trim shrubs so the house is easily visible

Attend to large trees - especially those which overhang your house
​
Everyone loves to see a colorful display
Plants and flowers around the front of the house are always appealing.

Add bedding plants a couple of weeks before listing so they have a chance to become established

Remove dead plants, pull weeds and add fresh mulch

Consider adding planters to your porch or doorstep

Seasonal decor should be tasteful and colorful
5. Your Front Door says "Welcome".
​
Buyers spend a moment outside your door waiting to go inside - Use this opportunity to make them feel welcome.

Painting your front door is a quick & cheap project - Choose a color that pops!

Consider new hardware

Clean the glass - including the storm door

Try adding a seasonal wreath

Use a bright 'Welcome' mat

Great Curb Appeal isn't expensive to achieve but can make a huge difference when you want to attract buyers. Buyer's will judge your house by what they see outside so don't loose your chance to make a great first impression.
We help all of our clients to make the right choices when presenting their house for sale. We have a great marketing plan which includes specific advice on how best to prepare and lots of helpful tips based on our extensive experience of showing homes.
Call / Email / Text ANY TIME to schedule your
FREE IN HOME CONSULTATION!
Call/Text/Email Any Time
Real Estate Advice, Local Knowledge & SO Much More!
​
Louise Norton
louise@charlotteandthelake.com
PO Box 481487, Charlotte NC 28269

Louise Norton
(704) 408 0733
louise@charlotteandthelake.com
PO Box 481487, Charlotte NC 28269
More Helpful Hints