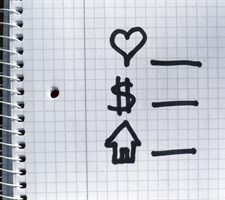 Planning a Successful Home Search
The Charlotte Real Estate Market is extremely competitive for Buyers - Here are some tips on how best to be prepared.



There's nothing so disappointing as losing a house you love because you didn't do your homework.



In Charlotte right now it is not uncommon for Sellers to receive multiple offers so you need to make sure you have the strongest offer possible to bring to the Seller.
1. Plan Your Mortgage
The very FIRST item to check off your list is to make sure you know exactly how much you have to spend. For most people that means talking with a mortgage lender.

We can provide recommendations for great lenders but always recommend that you shop around for the best mortgage option. A good lender will discuss the various different types of mortgage, downpayments, interest rates, how much you can borrow and how much the loan will cost you.

Having this information before you start shopping for a house will give you the option of delaying your search while you improve your credit score, to save more for a downpayment or to move forward with your search with confidence.
2. Hire a Buyer's Agent
Your Buyer's Agent will represent YOU in the complicated process of buying a house. They are experts in negotiation, know the local area, have contacts with other important professionals and (in most cases) there is no cost for you to use one. In most cases the Buyer's Agent's commission is paid by the Seller.

The best reason is that the represent YOU in the transaction and there's usually no cost for you to use one. In most cases the Buyer's Agent commission is paid by the seller.

Take some time to meet with two or three Realtors before you decide who you would like to use. Choose someone who is knowledgable about the area where you want to live and make sure you ask questions about their experience. It's also important to find someone that you like because you'll likely spend quite a lot of time with them viewing houses.
3. Build a "Must Have" and a "Would Like" list
I recommend that my clients keep the "Must Have" of their list short. Focus here on price and general location, minimum number of bedrooms and type of property. Shopping for a home with a long list of essential features is challenging in any market in the Charlotte area where inventory is currently very low having too many "Must Haves" is a mistake.

Your "Would Like" list can be longer and should include items like fenced yard, 3 car garage, specific community facilities, layout preferences etc.. It can be helpful to rank these items at least informally

Make sure that your Agent knows where you're willing to compromise and ask them to suggest locations and subdivisions where you will be able to get the features you want within your budget.
4. Understand the terms of the Purchase Contract
The best time to review the standard contract is not when you've found a house to love. When you're excited and ready to make an offer it's difficult to take the time to read the contract and understand exactly how the process works.

Ask your Buyer's Agent to review the contract with you ahead of time so that you can discuss the details. Frequently Seller's choose an offer based not only the Purchase Price but on other terms and understanding all of the negotiable items might give you the edge when a Seller receives multiple offers.
5. Think about the other professionals you need on your team
Your Agent will be able to advise you on what other professionals you will need to use during the purchase process including an attorney and reliable inspector. Take time early in the process to speak with these professionals and to ask about pricing and the services they offer.
6. Make sure your lender knows when you start to look at properties
Ask your lender how long they are taking to close loans and make sure they know that you will need a pre-approval letter to show to the seller when you make an offer.
7. Prepare funds
Make sure that you can access funds for Deposits and for your Down Payment. If you need to move money from accounts where there is a delay - for example from a 401k or a CD make sure that you leave enough time.

8. Go find your dream home!
Expect some disappointments - hopefully this won't happen to you but in a competitive market not everyone can get the house they want and sometimes Buyers have make offers on several properties before they are successful.

Make sure that your Realtor is providing the most up to date information possible on listings which match your criteria. If a listing is appealing to you try not to delay going to see it. In some areas and some price ranges if you don't see a house in the first 24 hours then there's a good chance that you'll miss out.

9. Prepare your strongest offer
As soon as you find a home you want to make an offer on ask your agent to prepare a comps report for the property. Knowing what surrounding similar homes have sold for will be your guide but you may have to consider a higher bid for the perfect home in a popular area. Your Agent will be able to guide you on putting together a really strong offer and negotiating the best deal. Remember that a winning offer can have strengths beyond just the purchase price so make sure that you discuss your best offer on all negotiable items with your Agent.
In a strong Seller's market it is more important than ever for Buyers to be well informed. The best asset you can have as a Buyer (or Seller) is a Professional Real Estate Agent working for YOU.



Call/Text/Email Any Time
Real Estate Advice, Local Knowledge and SO Much More!

Read Recent Reviews HERE

Louise Norton
(704) 408 0733
louise@charlotteandthelake.com
PO Box 481487, Charlotte NC 28269
More Helpful Hints