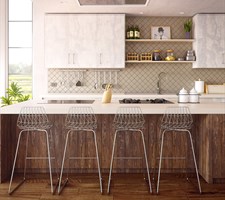 Is Your House Showing Ready? Quick Tips!
Selling your house can be stressful. Having your home in showing condition 24/7 is really stressful. Throw a couple of kids or a pet into the mix and it seems virtually impossible! These tips will help you focus your efforts on the things that buyers notice.

During our initial Seller Consultation meeting Charlotte and The Lake's professional agents help our clients decide what work to undertake before listing the house for sale.

When I show homes to buyers I notice that there are 3 main things that can change their perception of a house which they might otherwise love:

Cleanliness

Clutter

Organization

By addressing these items you'll not only 'wow' potential buyers, you'll also be a step closer to being ready to move.

Cleanliness
From dirty siding to smelly cat litter boxes, stained carpet to cloudy shower doors, buyers notice and remember how clean the house is. Some buyers are really picky but almost all buyers are turned off by smells and stains especially in the kitchen and bathrooms.

Everyday cleanliness is vital when your home is on the market. Vacuuming, cleaning sinks, keeping toilets fresh and beds made needs to be part of your daily routine.

You should also plan the following if possible:

Power-wash siding, driveways, decks, porches and patios

Steam-clean carpets

Address pet odors and have a plan to keep these under control throughout the listing

Regularly empty trash cans - and clean their exteriors

Wipe down paintwork - especially around door handles and light switches

Repaint badly stained or damaged walls and trim

Clutter

Buyers are turned off by houses where they fall over kids toys in the bedrooms or regret opening a closet door in the hallway, but even just a little 'clutter' to slow down your sale.

Your goal is to show the best side of your house - so put yourself in the buyers shoes and try to see things from their perspective. Remove excess items from the house by your own garage (neatly stacked boxes and furniture), a friend's garage or renting storage space.

Think about the amount of furniture you havesmall furniture - side-tables, dressers, cabinets, bookcases etc. can give a cluttered look.

Knick-knacks that are important to you can be seen as "too much stuff" and distract buyers from the great features your house has. Streamline items on display and put your precious items away before showings start.

Too many pictures and too much wall art can make a room look small. Pare down the number of personal pictures and stick to a few items which enhance the space.

Paperwork, bills, and mail look untidy and clutter tables and counters. Designate an out of sight space for bills etc. and be disciplined in keeping things tidy.
Streamlined rooms and minimal furniture will make your house look bigger & brighter, and buyers will be able to imagine how their possessions would look in their new home.

Organization

Buyer's love to see that there's a place for everything! If you have organized bedroom closets, and a clean & tidy pantry it shows them that the house can work for them. This is particularly important if you know that you don't have the biggest and best closets, pantry or laundry space.

Address overflowing closets. This is a great time to clean out items that you no longer need or want. If your stuff doesn't fit in the house many buyers will question whether there's enough storage for their items.
​Items which can't be packed for moving will look super-organized if packed in bins, baskets and decorative boxes. This works for toys, craft supplies, pet items, magazines etc. and in pantries, laundry rooms and bathroom cabinets.
​Pack away seasonal items from your closet and take time to organize the remaining items. Streamline hangers and hang like items together to show off the space. Keep clutter off the floor of closets and use totes and tubs for shoes and accessories.

Kitchen counters should be clear apart from a few items. I recommend little more than your coffee machine, soap and paper towels along with maybe one decorative item. You'll be amazed how much bigger your kitchen looks without all the items which usually take up space on your counters.

​Open display areas like bookcases and china cabinets look best when they aren't overfilled. Pack up the excess and use your prettiest items to 'stage' these areas in an appealing way.
Think carefully about bathrooms and the supplies which need to be 'on display'. Make the best impression by keeping a limited number of items in shower stalls and on counters.

If you're storing items in the garage keep those items stacked neatly. Spacious garages are a big selling feature so keep tools, garden supplies, paint etc. off the floor and organized on shelves and hooks where possible.

Buyers form quick opinions of the homes they see and will move on quickly if a house is disappointing - even if it has many of the features they want. Planning ahead and using these tips will show buyers the best features of your house and help facilitate a quick sale.

Ready to get started with planning to sell?
Call, Email or Text NOW to Schedule your no obligation in home consultation.

Louise Norton
(704) 408 0733
louise@charlotteandthelake.com
PO Box 481487, Charlotte NC 28269
More Helpful Hints