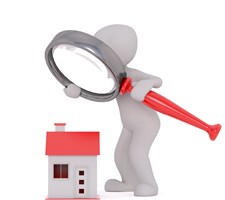 Home Inspections - What to Expect?
I recommend that everyone buying real estate have a professional home inspection performed. That includes new construction and the place you're buying from your dear friends or loving family member!

So just what is a 'Home Inspection' ?

Home Inspectors who work in North Carolina must be licensed by the NC Home Inspector Licensure Board. They have to follow a course of required study and abide by a code of ethics.

When performing an inspection a licensed Home Inspector home inspector will make a visual evaluation of most features of the property. This will include the roof, structural elements, electrical, plumbing and HVAC. However, they do not include everything and you also want to order additional inspections - for example for wood destroying insects (termites), HVAC components, structure, radon, septic tank, pool or lead paint.
Your home inspector won't go beyond the visual inspection or correct items which they identify but they will recommend further investigation by appropriate professionals where they identify potential problems.

In North Carolina most sales contracts will include a Due Diligence period. This gives the buyer time to undertake their inspections. The cost of making inspections is the Buyer's responsibility and those costs are not refundable if the sale is not completed. As a new home buyer it is a good idea whenever practical to plan to attend the general inspection and to review the results with your home inspector and Realtor. You can then decide whether you want to try to negotiate with the seller to either complete or pa y for some or all of the repairs identified during your inspections. You might also ask for a price adjustment or for the seller to make a contribution toward your closing costs in lieu of the identified repairs.

It's important to know that Sellers are NOT required to agree to repairs - everything is negotiable but very often they will reach an agreement with the Buyer so that the transaction can continue. If the buyers are unable to reach a satisfactory agreement on the repairs or are unhappy with the results they can terminate the contract during this period. (For more information on Due Diligence periods read my Blog post on this subject here: Understanding Due Diligence Fees

You may find the NC Real Estate Commission's "Questions and Answers on Home Inspections" helpful.

Your Charlotte and The Lake Real Estate Agent will work carefully through your inspection report and repair request questions - whether you're a Buyer or a Seller and help you negotiate the best deal!

For more information about Home Inspectors you can visit the NC Board of Licensure.



Louise Norton
(704) 408 0733
louise@charlotteandthelake.com
PO Box 481487, Charlotte NC 28269
More Helpful Hints