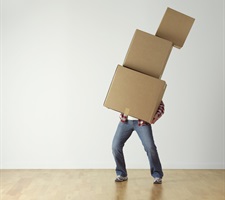 Mover's Checklist
Don't forget these details when planning your move!
1. Complete "Change of Address" application with the USPS to forward your mail.
You can now do this easily online. https://moversguide.usps.com/mgo/disclaimer

2. Schedule utility connections/disconnections.
Don't forget to include cable and internet.

3. Send Change of Address notification to friends and family.

4. Provide Change of Address to bank, credit card companies, insurance, cell phone provider etc..
This is especially important for companies who don't regularly communicate with you by mail.

5. Change your address with the Social Security Administration.
https://faq.ssa.gov/en-us/Topic/article/KA-01711

6. Update regular subscription shipments
Blue Apron, Amazon etc..
7. Inform regular scheduled vendors.
Cleaner, yard service, dog walker, pest control etc..
8. Update vehicle insurance and Driver's License.
https://www.ncdot.gov/dmv/help/moving/Pages/new-residents.aspx

9. Update voter registration.
https://www.dmv.org/nc-north-carolina/voter-registration.php

10. Ensure schools and employer have up to date address on record.
Register with new school if necessary and arrange transfer of transcripts

11. Map your new commute and check out alternative routes.

12. Update Pet Microchip contact details.

13. Schedule bulky trash pick up.
CharMeck often has a two week lead time.
Schedule online
https://servicerequest.charlottenc.gov/service/BULKITEM

14. Schedule charity pick up for unwanted furniture or appliances
Crisis Assistance and Salvation Army collect items locally.

15. Check rarely used storage areas
Items are frequently left in attics and other little used storage areas.

We hope this helps as you plan your move and get ready for your new home!

Louise Norton
(704) 408 0733
louise@charlotteandthelake.com
PO Box 481487, Charlotte NC 28269
More Helpful Hints