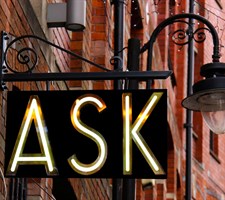 Questions to Ask when Interviewing Buyers' Agents
When you decide the time is right to buy a house one of the first things you should do is to find a great Buyer's Agent who can help you with the process.
How can you make sure you find the best agent for YOU?
Take the time to interview two or three agents... any Agent will be happy to meet with you to discuss their services and to give you information about their experience, and their particular skills.
Here are some great questions to ask when interviewing a Real Estate Agent.
1. How long have you been working in Real Estate?
An established Agent will have lots of experience with different situations.

Newer Agents have more time for their clients and will be supported by a more experienced Broker in Charge.
Do you work Full Time or Part Time in Real Estate?
2. Do I need to sign a contract with you right away?
Most Buyer Agent contracts are EXCLUSIVE so be sure that you've found the right agent before signing a contract.

The North Carolina Real Estate Commission requires that Agent share and review the "Working with Real Estate Agents" brochure with anyone who is seeking real estate services. If an agent doesn't share this information or skips over the content this might be a red flag.
(more info below)

3. Tell me about the buyers you've worked with recently.
How Many? Where? What type of property?
Ask about the types of buyers they've worked with (investors, first timers etc.).

Ask about their negotiating experience and the results of recent negotiations.

Ask about their experience of working with new construction (if relevant to you).

How many buyers are you currently working with and do you have time to take on another client.

4. What kind of assistance can I expect if I hire you?
Will you update me on new listings.

How quickly can you provide pricing comps if I'm interested in a property.

Will you suggest properties/subdivisions that are outside my specific criteria but which might work for me?

Do you keep up to date with new construction subdivisions?

​ 5. How much will it cost?
Most Buyer's Agents' commissions are paid from the seller's proceeds at closing but there are exceptions - make sure you understand what those are and how those may affect your property choices.

Is there anything to pay 'up front'.

6.
Can you help me find the other professionals I will need?
You will need professionals like an attorney, inspector etc. as you work through the process. You may want to do more research on the vendors your agent recommends early in the process so you have your team in place when you're ready to buy.

You may need vendors like plumbers, HVAC specialists to help assess repairs or to help you complete work after closing.

7. Can you help me develop a realistic 'wish list'?
Experienced agents should have a good idea of what you might be able to afford in the area you want.

Will this agent be honest with you up front about whether you can get what you want within your budget?

Do they have suggestions for other areas which be cheaper or have more property with the features you want?

8. Do you also work with sellers?
If you need to sell your existing home it's great to work with just one agent.

Agents who also work with sellers can be very helpful when it comes to negotiating as they have a good understanding of what's most important to sellers and how to reach terms which satisfy all parties.

9. How often can I expect to hear from you?
Look for an Agent who will commit to regular communication to keep you up to date.

Confirm your Agent's schedule and make sure they are available to show properties on a schedule which works for you.

Make sure you have a good rapport with the Agent.

And Finally ....


10.

What makes you the best Agent to help me buy a house?
Look for an Agent who doesn't 'badmouth' other Agents.

Listen for original Ideas.

Ask about references and reviews .

When choosing a Real Estate Agent you shouldn't necessarily choose the one who has done the most business or the one who says they can negotiate the best deal. Check out the full picture before you make your choice. Take the time to do a little research, and ask the right questions so you can find an agent who'll work hard for you get a quick sale at a great price!
In addition to addressing these items and any other questions you may have about your house, pricing and the sales process Agents in North Carolina are required to share & review the NC Real Estate Commission's brochure "Working with Real Estate Agents" with their customers and potential clients.
If you would like a copy of this brochure you can call or email us.
Charlotte and the Lake's agents would love the opportunity to meet with you and share our answers to all of these Interview questions.

Louise Norton
(704) 408 0733
louise@charlotteandthelake.com
PO Box 481487, Charlotte NC 28269
More Helpful Hints